As lockdown restrictions eased earlier this summer, we decided we needed – for our own sanity – to get away for a few days with the boys. We trawled AirBnB and settled on a small cottage in a sleepy village called New Abbey, a few miles from the Solway Coast. And, what a few days we had exploring these stunning part of the world, helped hugely by a British heatwave and the feeling that we hadn't left Lancashire for so very long thanks to working at home with kids for months on end.
Travelling up to Scotland
Our destination was around a three hour drive away from our home in Lancashire. We left at 11am so the baby could nap on the way up and we arrived in the sleepy village of New Abbey just after 2pm thanks to a couple of service stops.
The cottage was perfect for our small family unit. Two bedrooms, one with a double and one with a single and a travel cot, an open plan lounge, kitchen and dining area and a wet room with a toilet.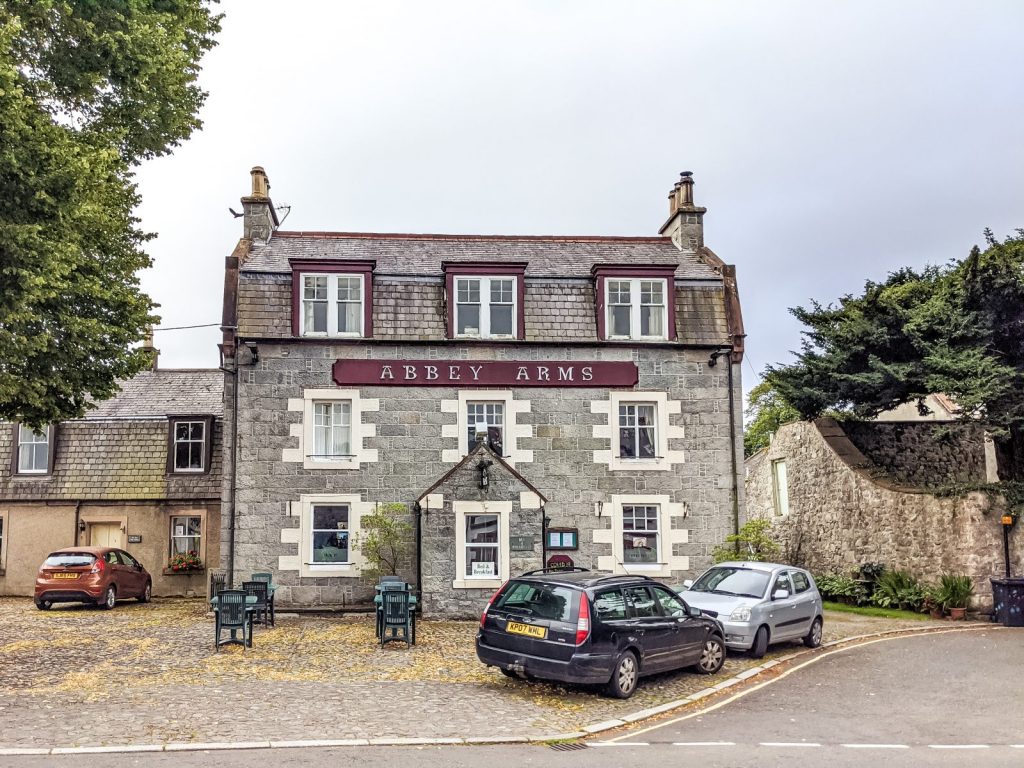 We were so happy to see the owners had left us plenty of bits to get us started, including some home made cake, a pint of milk, plenty of Tassimo pods and enough loo roll to see us through the week. The small things often make the biggest impression.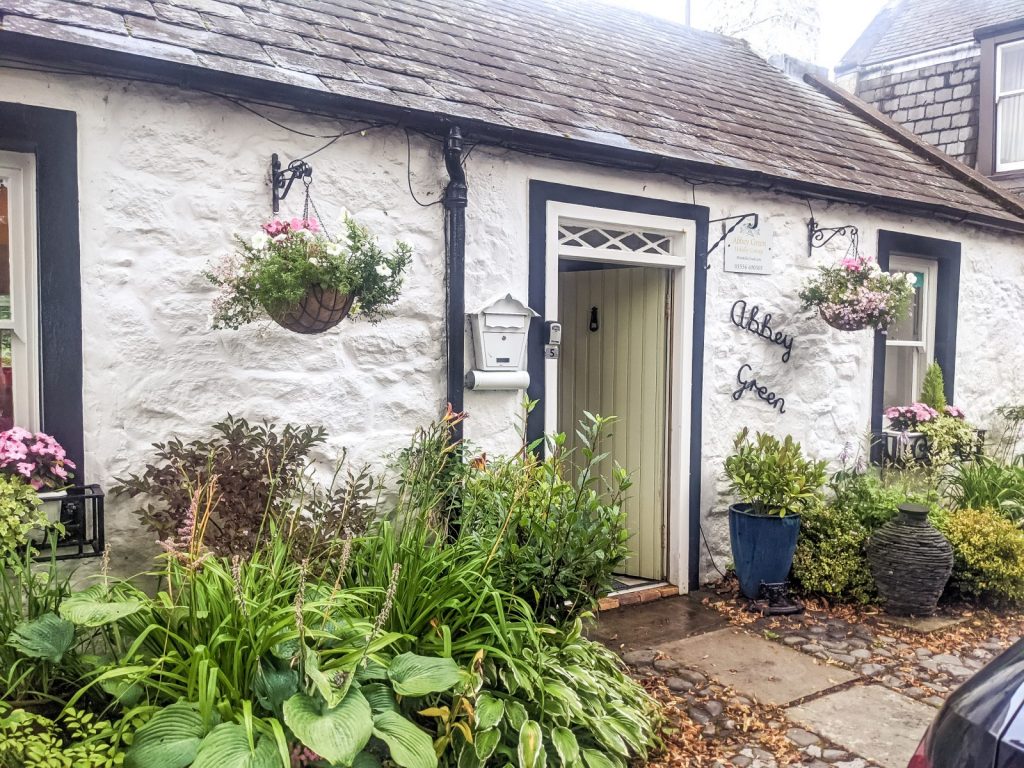 The cottage was located in the square, directly opposite the New Abbey Arms pub and across the road from the local shop.
Behind the property was a huge garden with BBQ facilities, a sweet smelling apple tree and plenty of space for the kids to play in.
We unpacked, had a quick mooch around and then jumped back in the car to head into Dumfries to grab a bite to eat.
Lockards Farm
I had booked Lockards Farm in Dumfries to eat as my research had told me they were offering Eat Out to Help Out and also did kids meals.
For a Monday evening, the pub was pretty quiet and the majority of the clients were sat outside as it was so warm. The pub has a small children's play area which the kids headed to immediately, while Neil and I scanned the menus.
Neil went for a burger as usual, I picked a rotisserie chicken tikka masala and the boys had the usual chicken goujon/chips/beans fayre.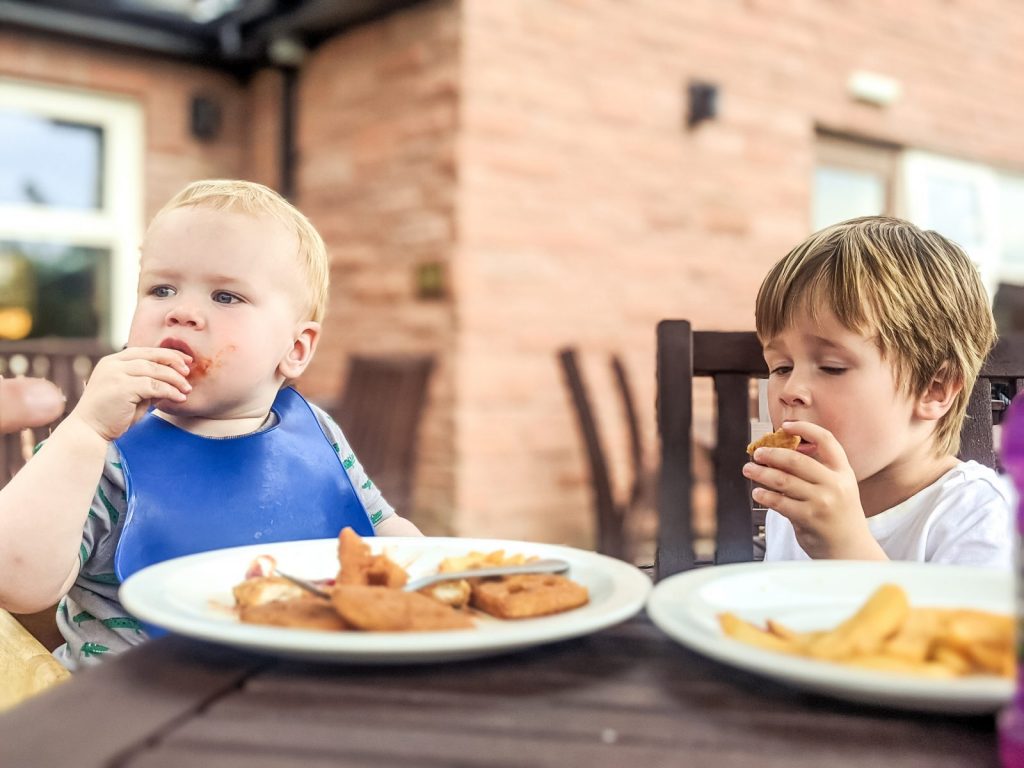 The food came quickly and was decidedly average. However, the boys had fun meeting some new friends in the play area and the meal came to less than £15 thanks to the government scheme offering 50% off food.
Discovering Mabie Forest
On the way back we drive through Mabie Forest to have a quick look and discovered a large adventure play area that we promised we would return to the following day. We also followed the road and stumbled upon one of the 7stanes which at first we were pretty freaked out about!
We got the boys ready for bed and sat up with a couple of beers, enjoying the novelty of our new surroundings.
Day 2 – Mabie Forest, Solway Coastal Route and Southerness Beach
We woke up bright and early ready to explore our local surroundings and headed immediately to Mabie Forest to tackle the adventure playground.
The forest is stunning and as the Scottish kids were already back in school, it was super quiet. The boys had the run of the park to themselves and enjoyed frolicking on the swings, slide and climbing frames.
Next, we walked down one of the easy trails and discovered the sawmill before looping round back to the car.
Parking cost £1 for an hour and there are public toilets available. The forest is absolutely stunning and well worth a visit for mountain bikers and keen walkers.
Once our time had run out, we hopped in the car and decided to follow the road signs for Solway Coast.
First we stopped at Drumburn viewpoint. This small area has enough room for a few cars and you can view the Solway Coast, with a small map showing you various focal points.
Next, we drove through the village of Kirkbean and turned off to Abrigland to see the outside of John Paul Jones' cottage.
We then made our way to Southerness and were not disappointed with what we found. A stunning lighthouse which serves as a beautiful backdrop to so many photos, a rocky beach with rock pools teaming with wildlife and lots of restaurants, pubs and shops.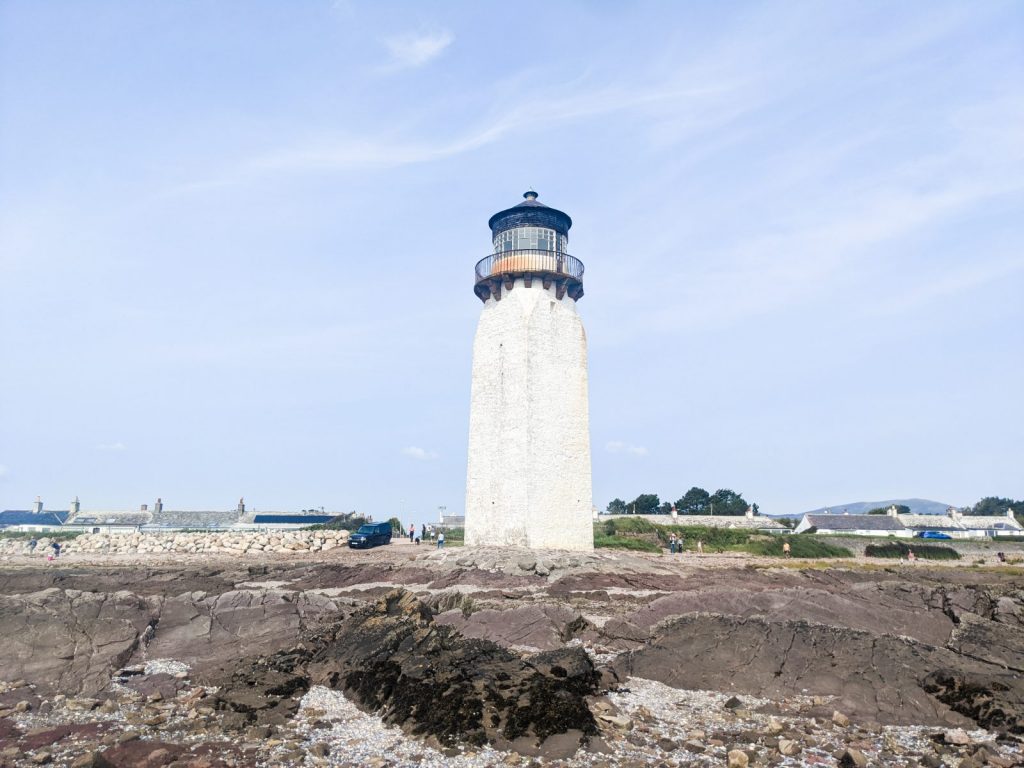 Dexter and I explored Southerness beach, climbed rocks, took hundreds of photos and had an absolute blast discovering everything Southerness has to offer.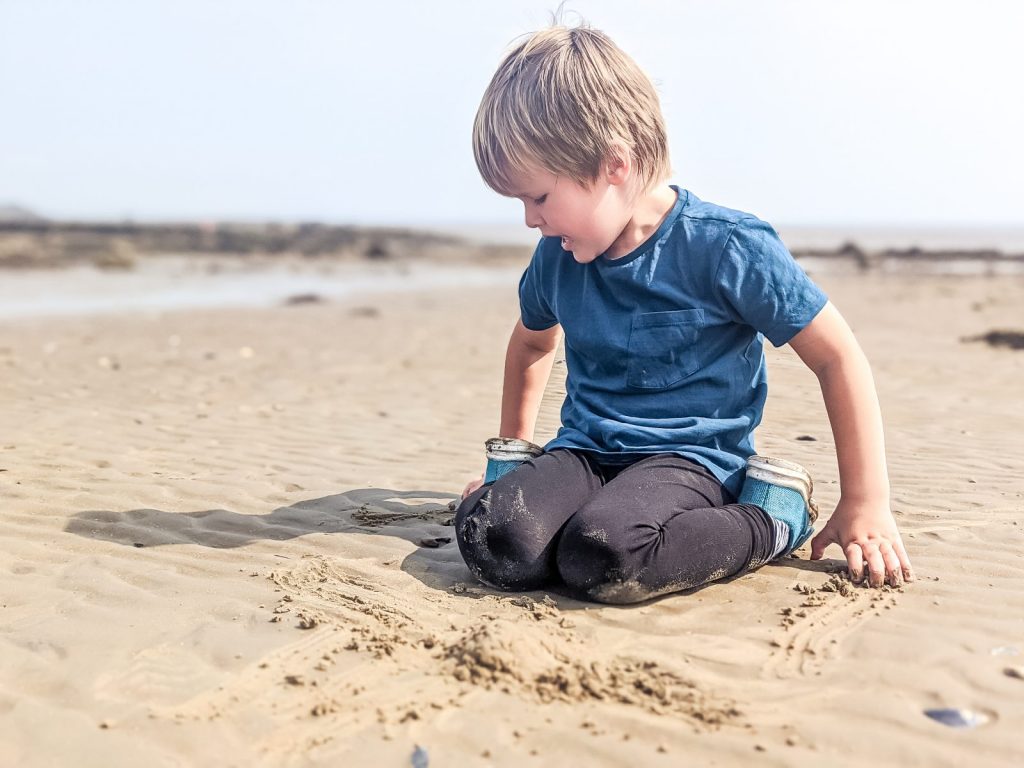 After, we all had a drink in John Paul Jones Bar & Grill and sat outside in the beer garden, ensuring we maintained social distancing.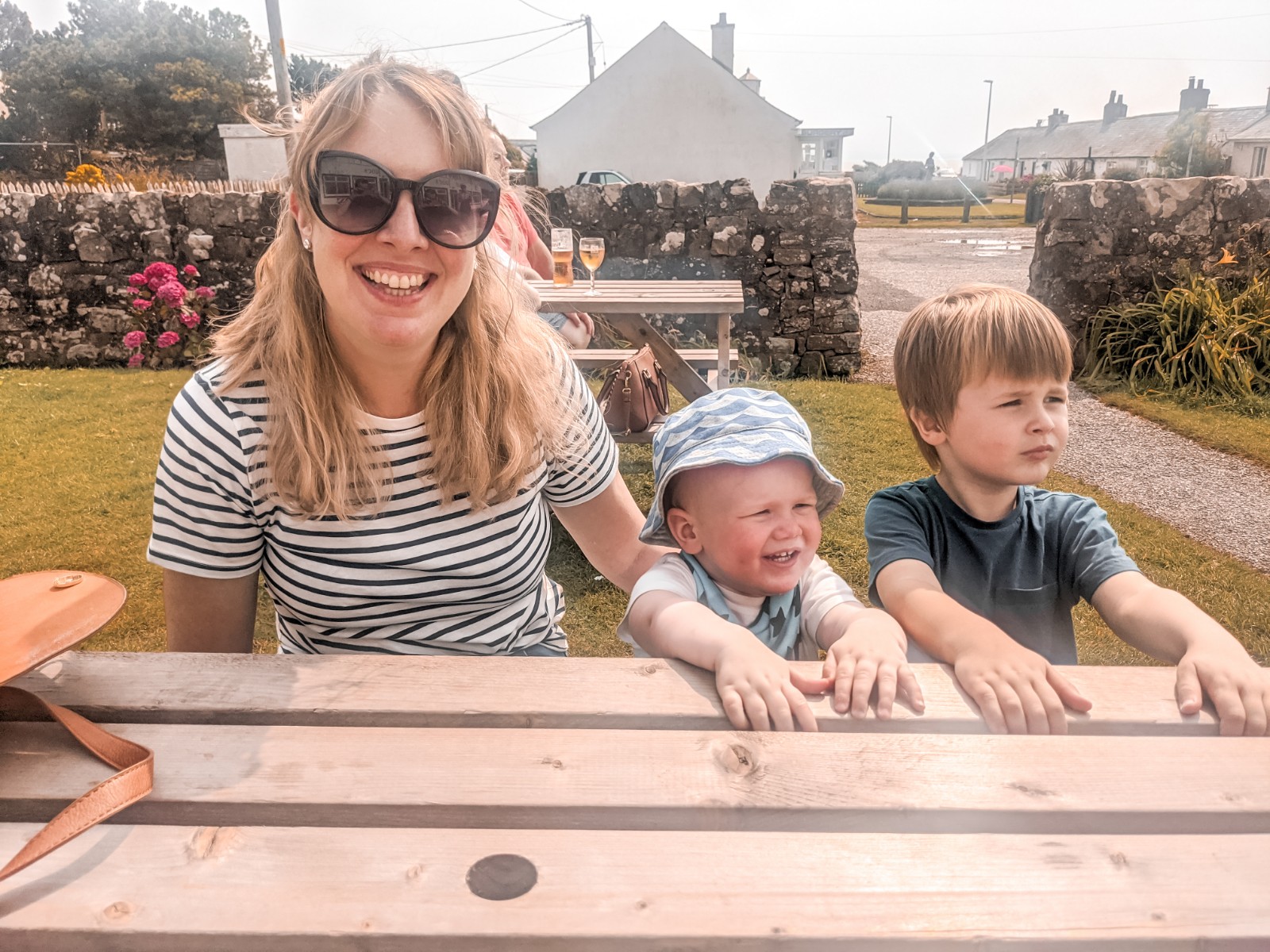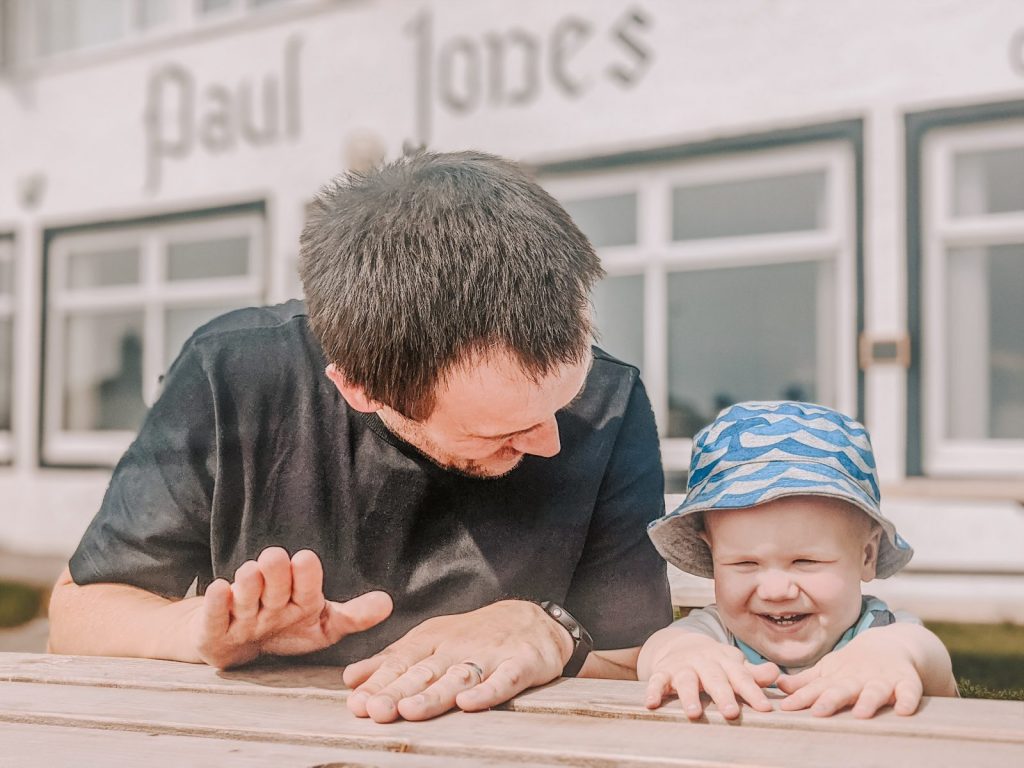 It was time to continue along the A710, past Sandyhills beach, which we promised we'd return to and onto Castle Douglas and Loch Ken which we aimlessly drove around as the boys had a nap.
The scenery was absolutely stunning, but we were all starving. Thanks to the monster nap, we seemed to have missed lunch time in most places so we headed back to Dumfries along the A75 and grabbed a KFC bucket which cost us less than £10 thanks to the Eat Out scheme again.
After eating, we headed back to the cottage, feeling very lethargic. I shamelessly had a short nap and then decided Dexter and I should try to climb the hill up to Waterloo Monument which overlooks the village of New Abbey.
Waterloo Monument – the first attempt
Google Maps told me it was a twenty minute walk from our cottage to Waterloo monument – however, Google Maps was very, very wrong.
Dexter and I walked up the winding road to the bottom of the hill and this alone took us twenty minutes.
We followed the signs to start the ascent, walking alongside the burn and then up the granite steps. Dexter was not happy at all, but we pressed on.
I had no idea how far we were from the top and each corner we turned, we seemed to be faced with more granite rocks which were becoming increasingly difficult to clamber over, so we decided to turn around.
Dexter was pleased to be on the way back to cottage, but I was disappointed not to have made it to the top and promised that I'd be back before leaving for home.
Day 3 – Sandyhills Beach, Dalbeattie Forest
We woke up on the third day to more glorious weather so we headed back down the A710 to Sandyhills beach.
We parked next to the caravan park which costs £3 for the day. You pay for parking in the shop and obtain a token to use at the barrier on the way out.
The beach is a tiny walk away from the car park and we set up camp with our towels. Dexter and I left Neil and Felix to frolic in the sand whilst we headed over to the rocky cliffs to explore.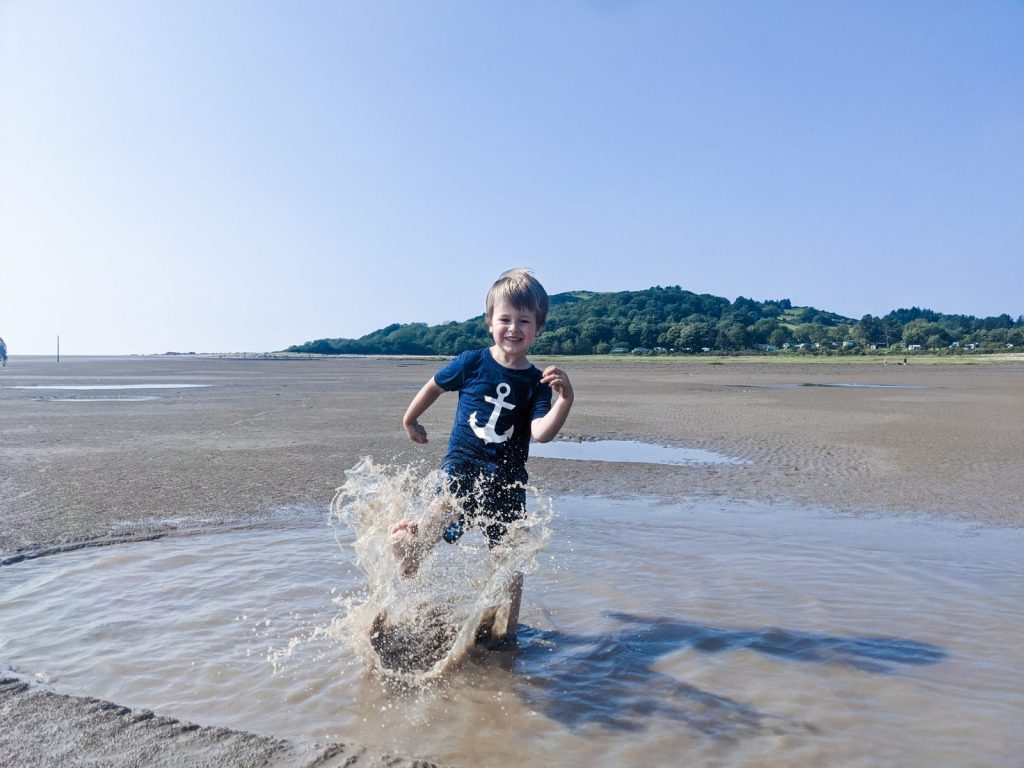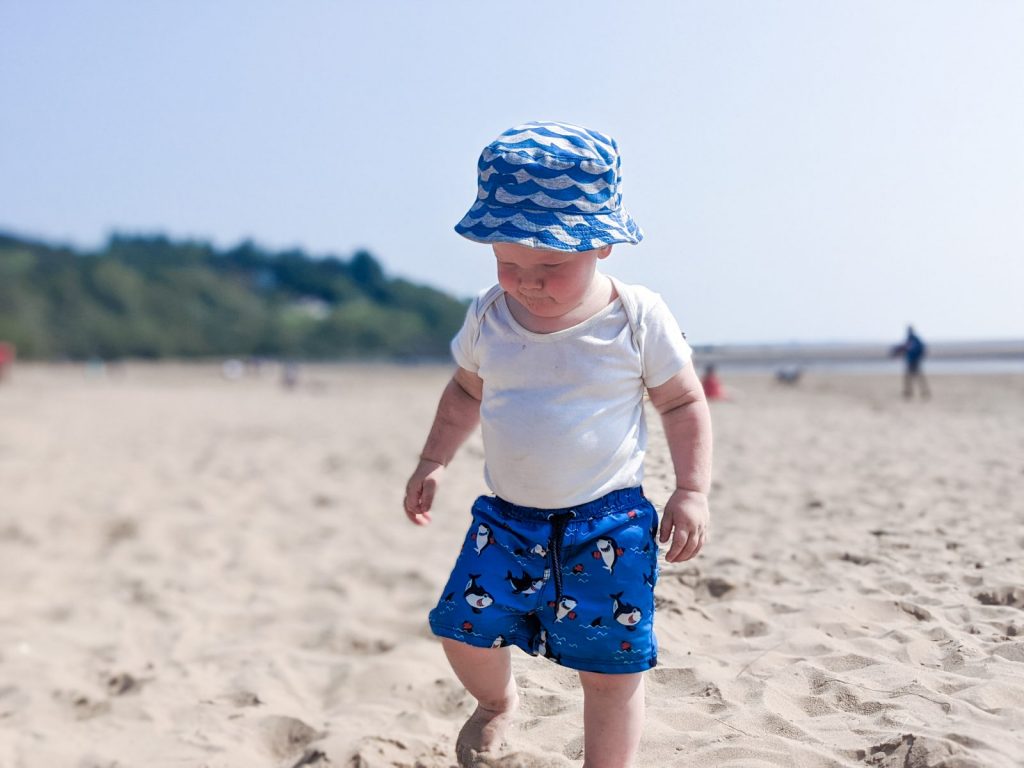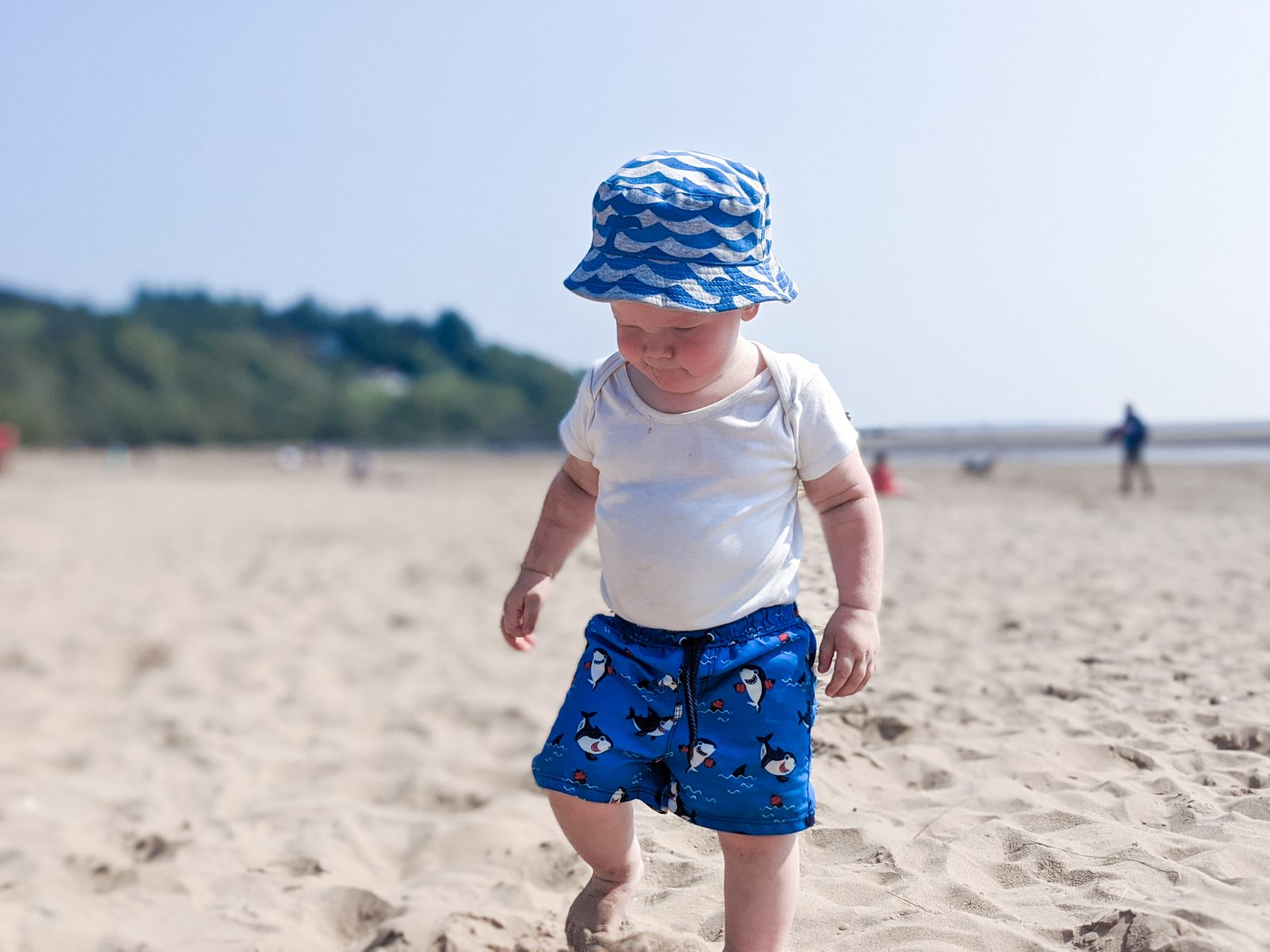 At Sandyhills, the tide goes out so far that you cannot see where it begins. However, it can come back in really quickly and cut you off, so we didn't spend too long exploring, just incase!
We spent the rest of the day building sandcastles, playing with a ball and running around on the sand.
On the way home, we swung back via Dalbeattie to pick up some chips which we devoured at Dalbeattie Forest before heading home for a well deserved rest!
Day 4 – Caerlaverock and Isle of Whithorn
Our final full day in Scotland and we were determined to make the most of it!
We started by heading out to Caerlaverock to the WWT there. We are already WWT members as we have one very local to us, so we were intrigued to see what WWT Caerlaverock had to offer.
We parked up and noticed immediately it was going to be nowhere as busy as our local centre. There were only a few cars in the car park and there wasn't a queue to get in!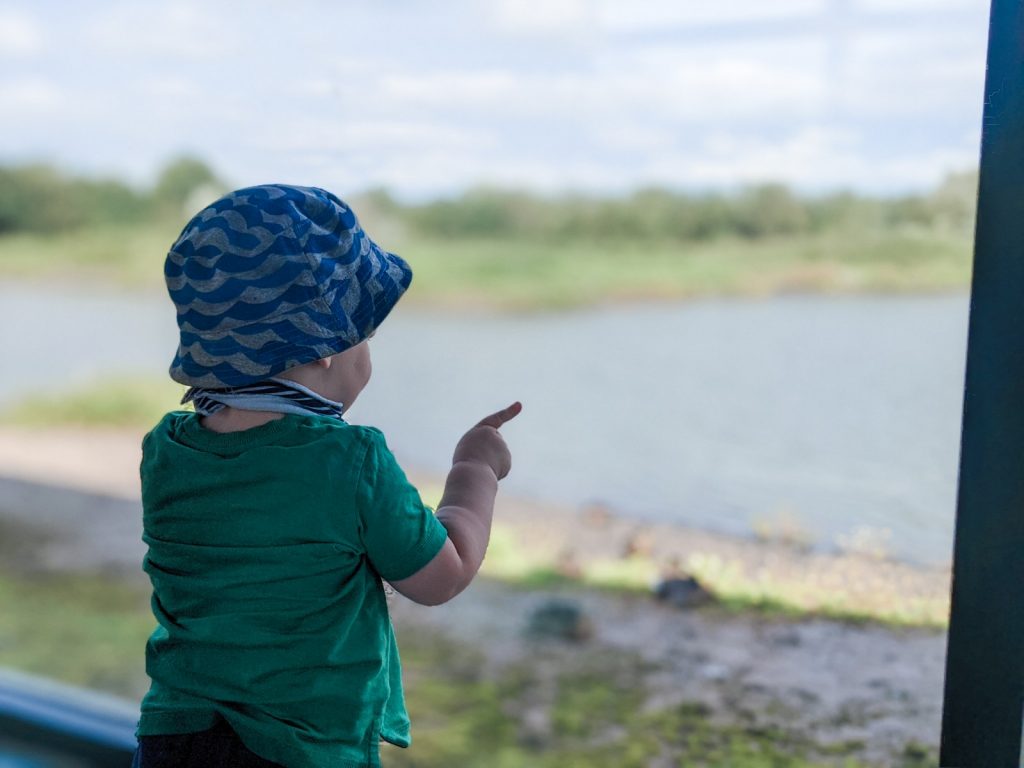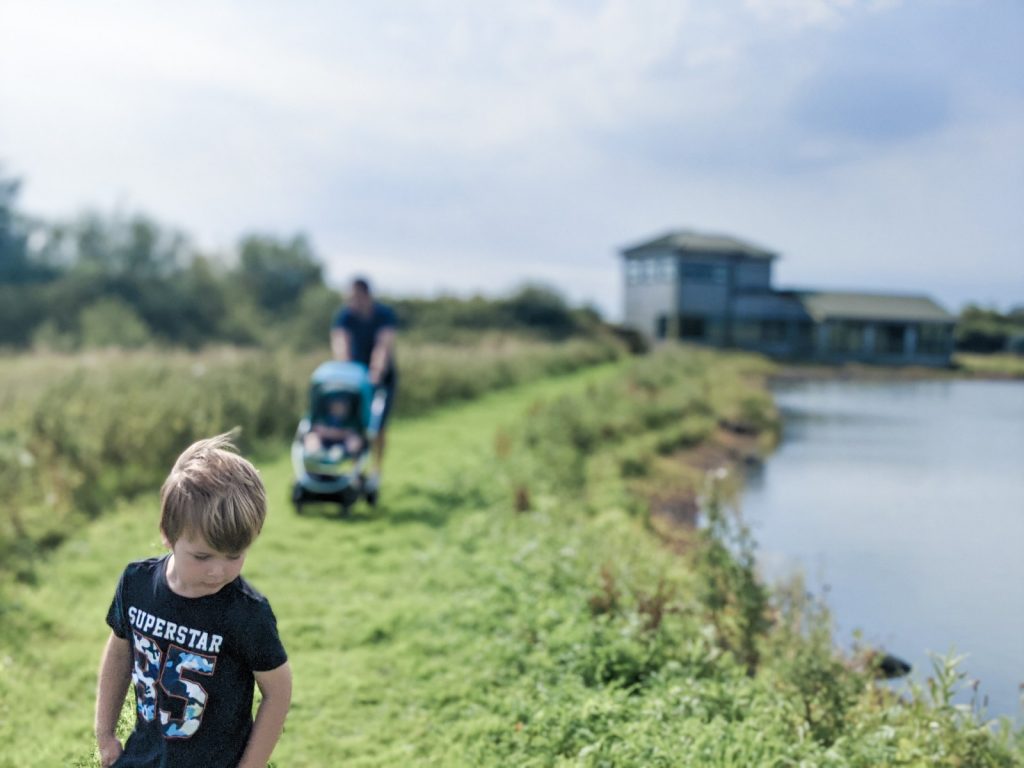 The kind lady working at the entrance gave us a map and pointed out some sights of interest and we headed out into the centre to explore some trails.
We spent around an hour here until the horseflies descended on Neil and left him bitten and bleeding. They were not a bother to me and the boys at all and only concerned with biting him through his t-shirt, on his knees and on his elbows. We headed back to the car, via the gift shop and pressed into Caerlaverock castle.
Unfortunately, due to Coronavirus, Caerlaverock castle is shut to the public, but the car park and ground around the castle are still accessible.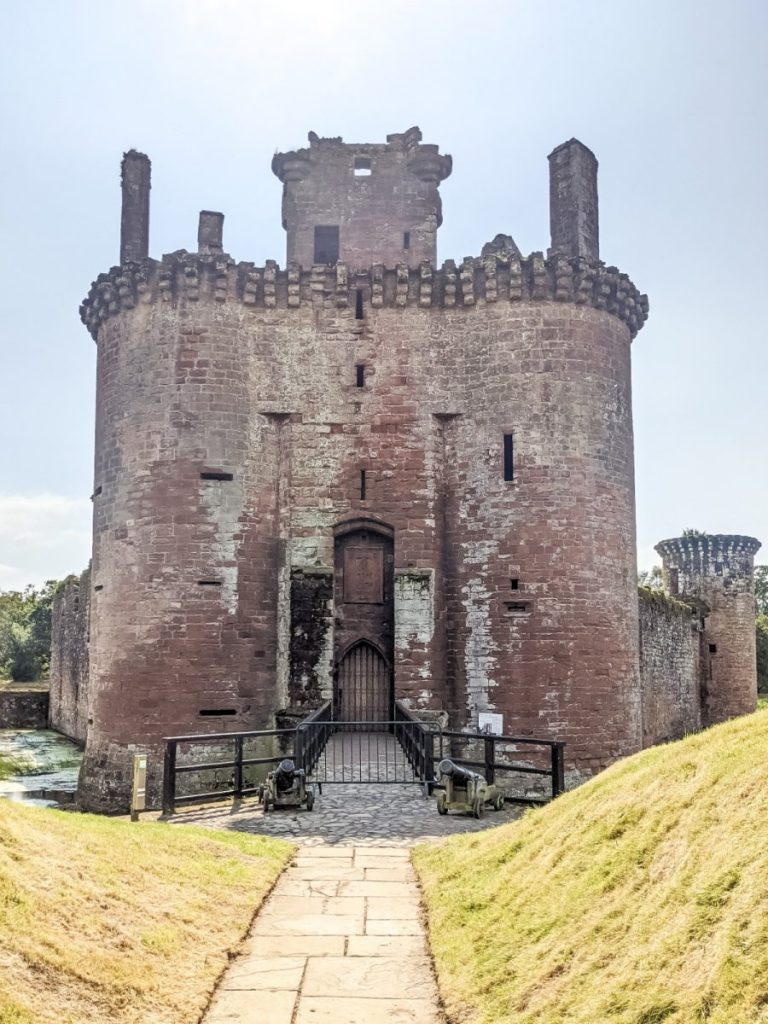 We parked up (for free) and wandered around the castle grounds, capturing some wonderful photos. We were pretty devastated that the castle was shut and we will definitely return in the future to explore it fully as it's such an incredible ruin.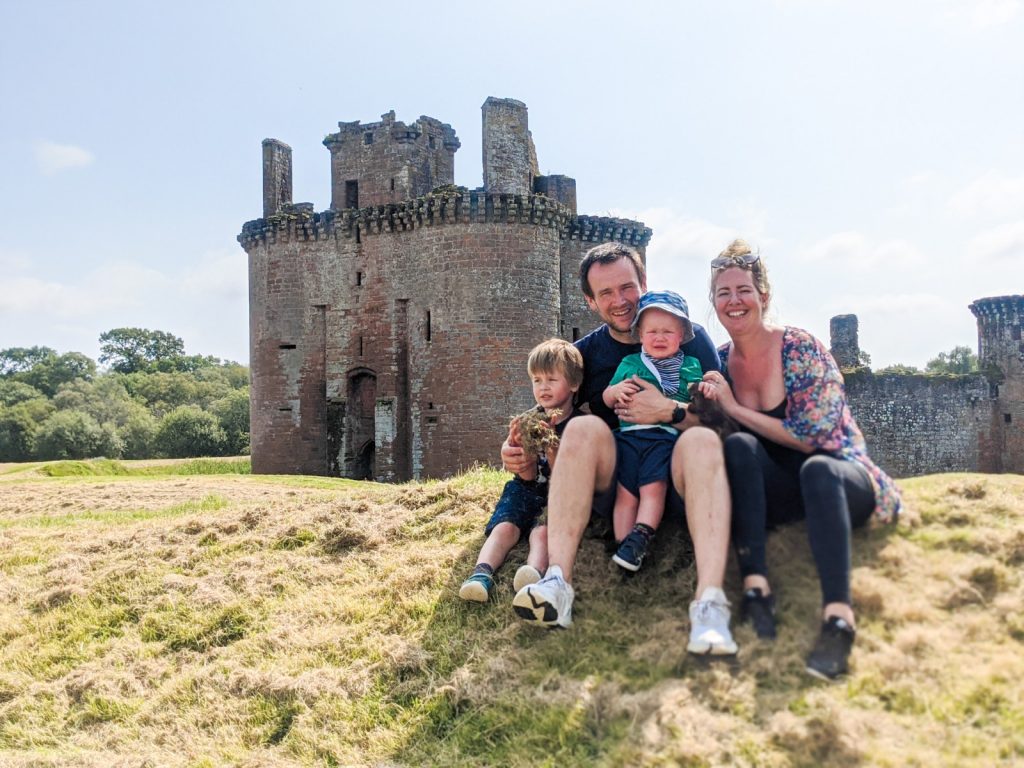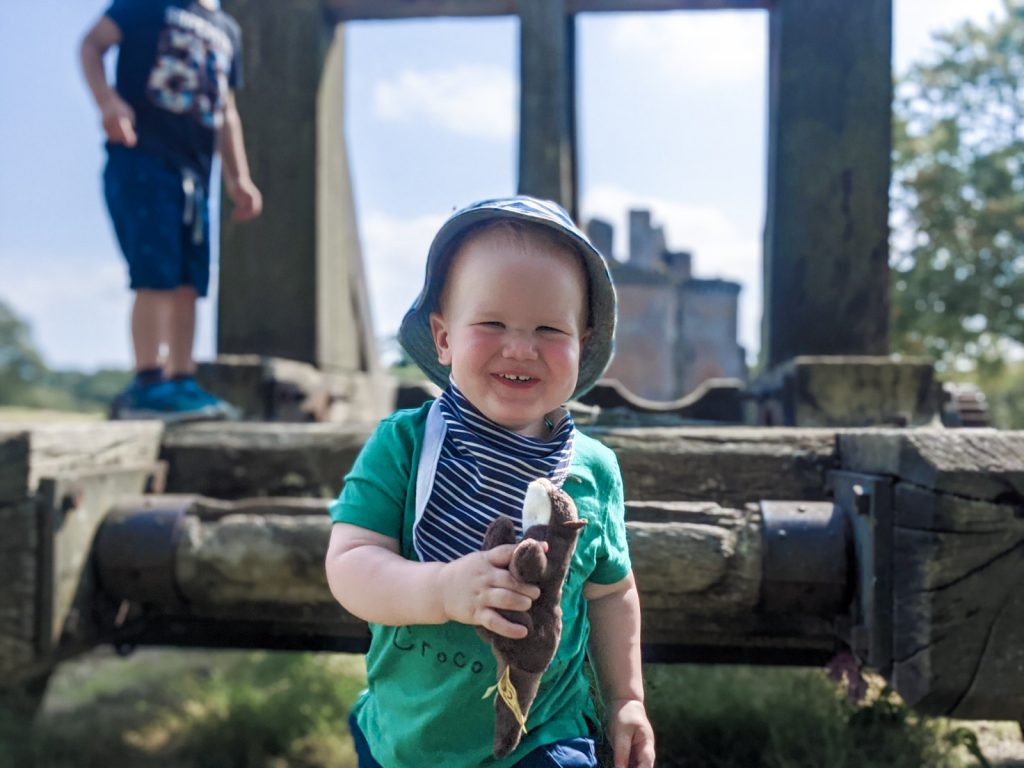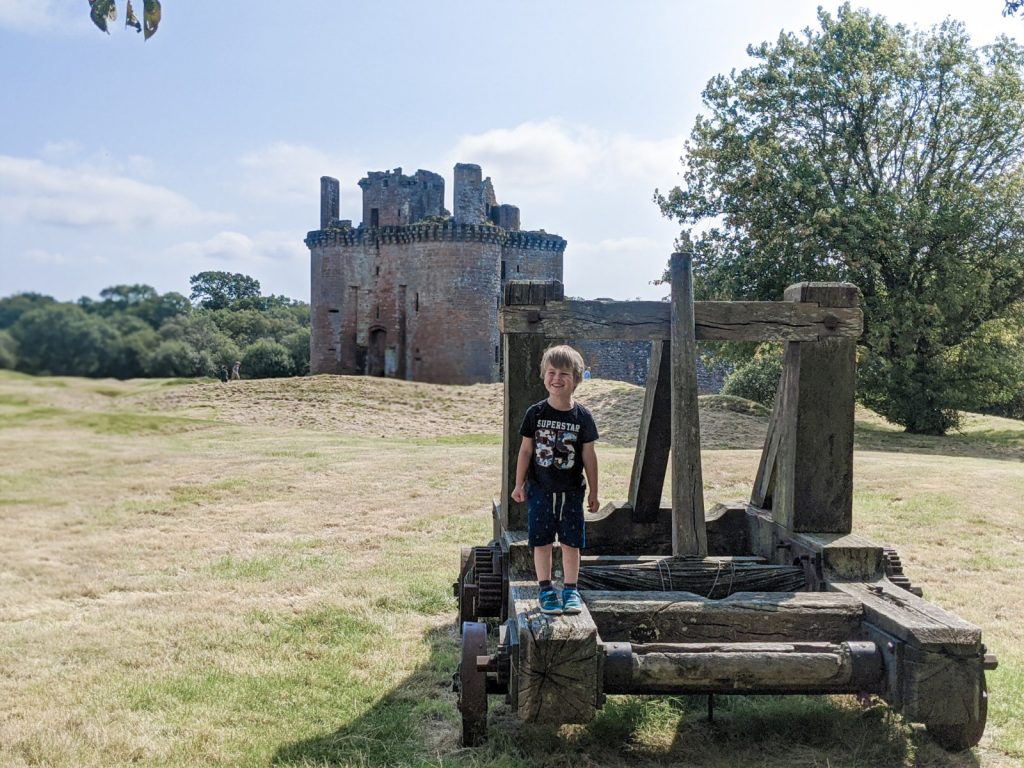 We then headed back to Dumfries for a bite to eat and chose the Jolly Harvester which served pub grub and kids meals.
The pub was really quiet and we were able to social distance inside. I ordered a steak and ale pie, Neil had his usual burger and the kids had burgers, chips and peas/beans.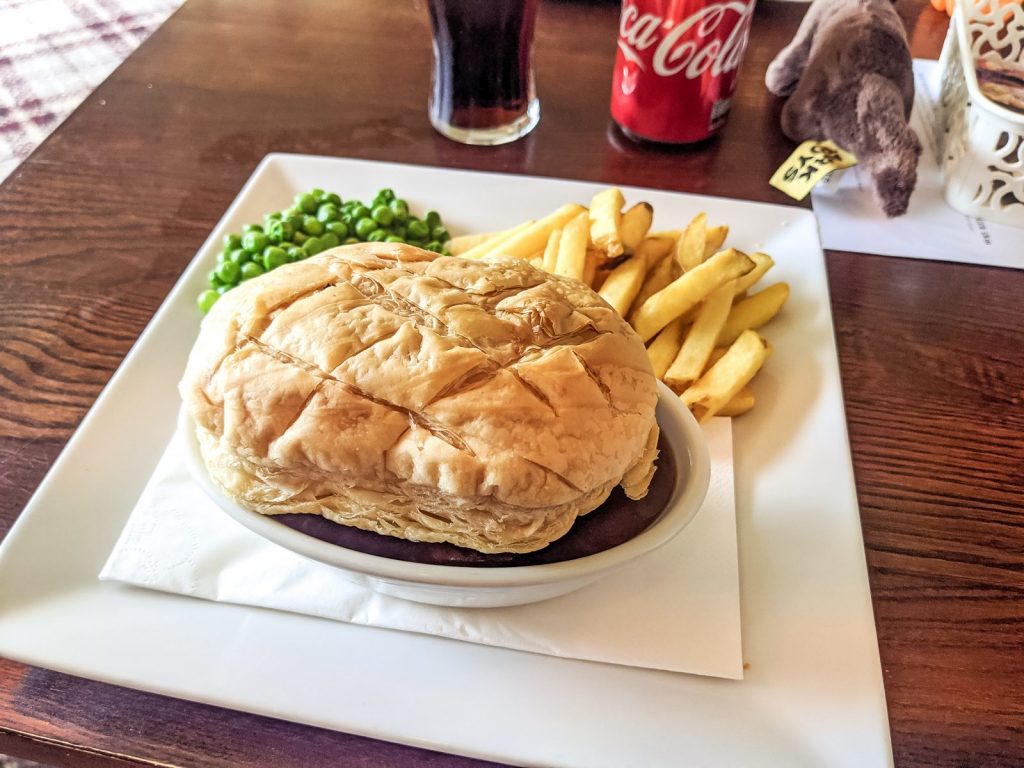 The steak and ale pie was really delicious and Neil was pleased with his burger. The boys devoured their lunch so I am assuming they enjoyed it too!
It was now time for a nap so we decided to go on a big drive while the boys slept and head towards the Isle of Whithorn.
Isle of Whithorn
It took around 1.5 hours to arrive at the Isle of Whithorn which was one of the most scenic places we've ever been to.
Isle of Whithorn is a sticky out piece of land which looks across the sea towards the Kirkcudbright coast, Lake District and Isle of Man.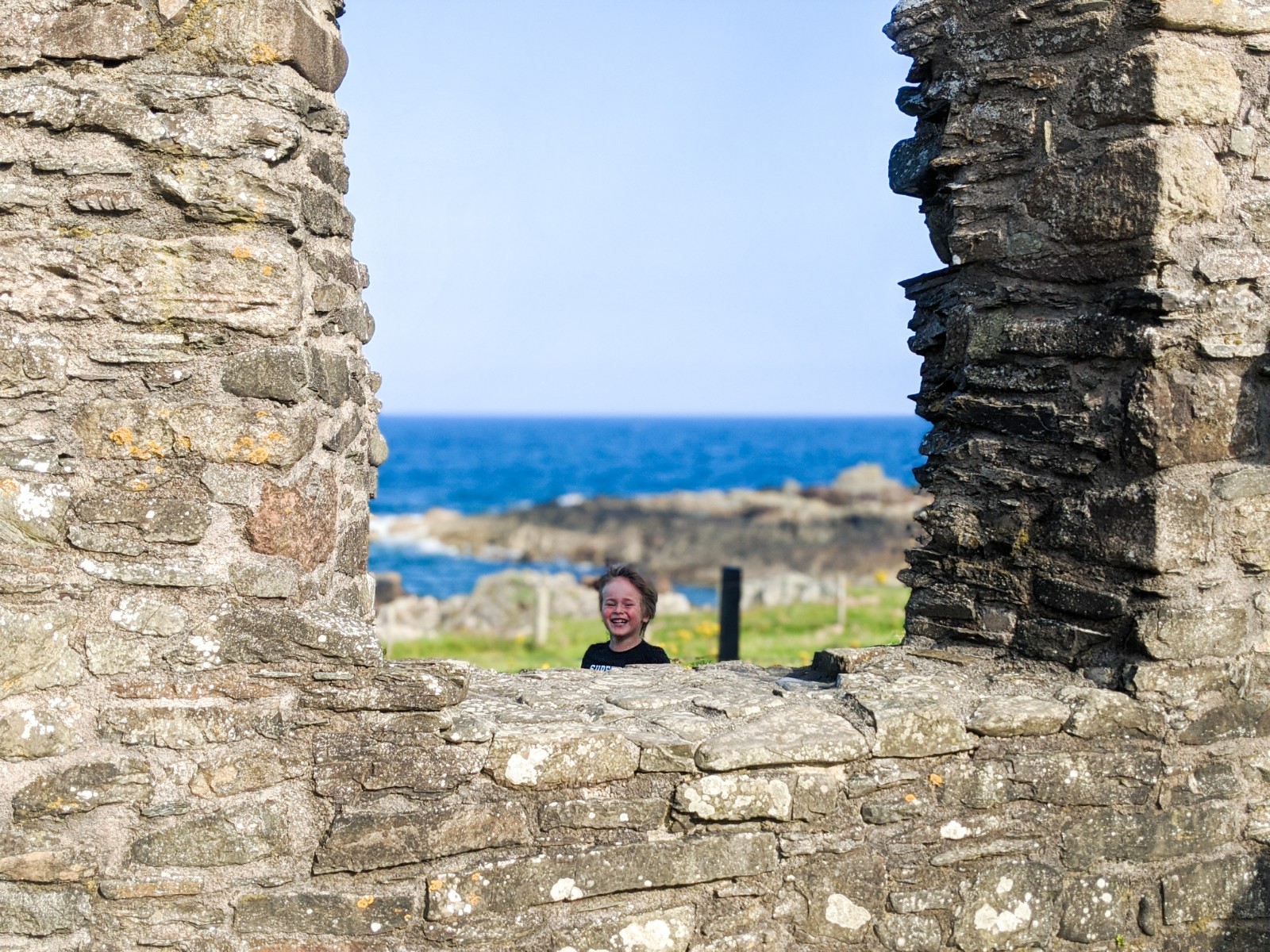 We parked (again for free!) outside the village and then walked down past the cottages onto the main strip where the Steamboat Inn is located. Here they have outdoor seating alongside the harbour so we all sat and enjoyed a couple of cokes before heading out towards the Isle's edge.
Here, we discovered St Ninian's Chapel which Dexter and I explored, before wandering up to Isle of Whithorn tower – a white square navigational aid – which offered us amazing views out to the sea.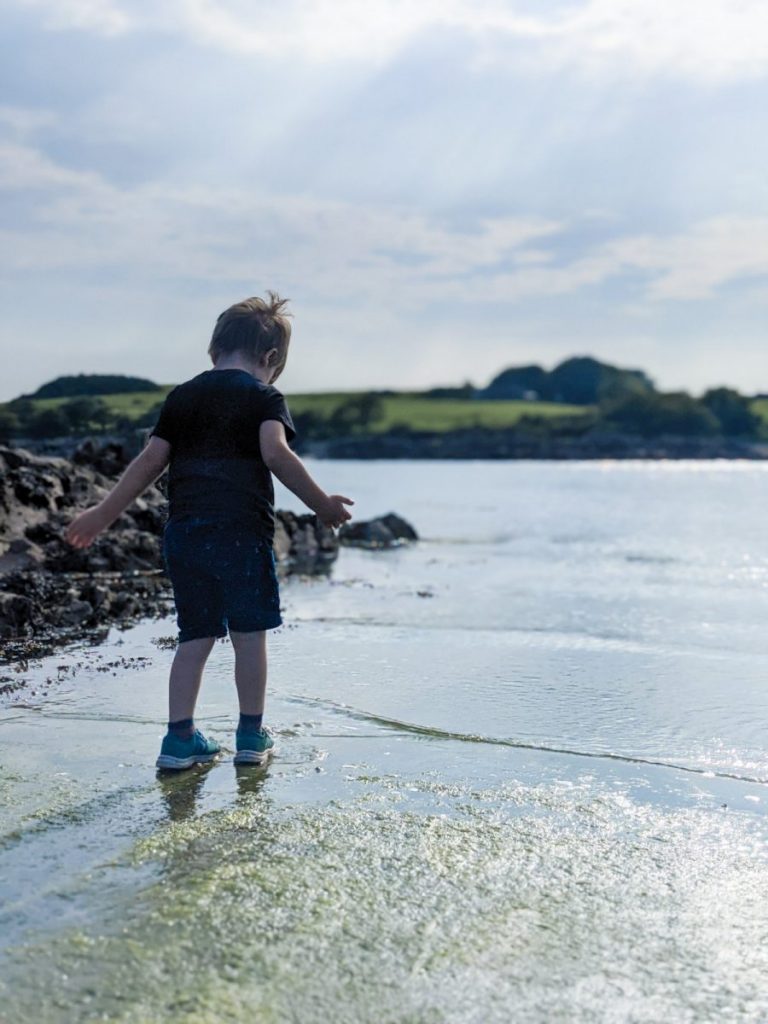 This area is such an incredible place and it was such a shame we didn't have more time to spend here. We will definitely be back again and are really interested to spend more time in Whithorn, three miles to the north and understand the rich history of this town too.
It was a Chinese takeaway and an early night for us when we got home! We were all shattered and a little sad that we would be returning home the following day.
Day 5 – Waterloo Monument – part two and Sweetheart Abbey
I woke up nice and early ready to ascend Waterloo hill before returning home.
I headed up the road next to the Abbey Arms and got to the bottom of the hill in around fifteen minutes. From here, I started the ascent which took me around twenty minutes. It was a lot cooler than previous days, but I was still sweating buckets and kept having to stop to catch my breath.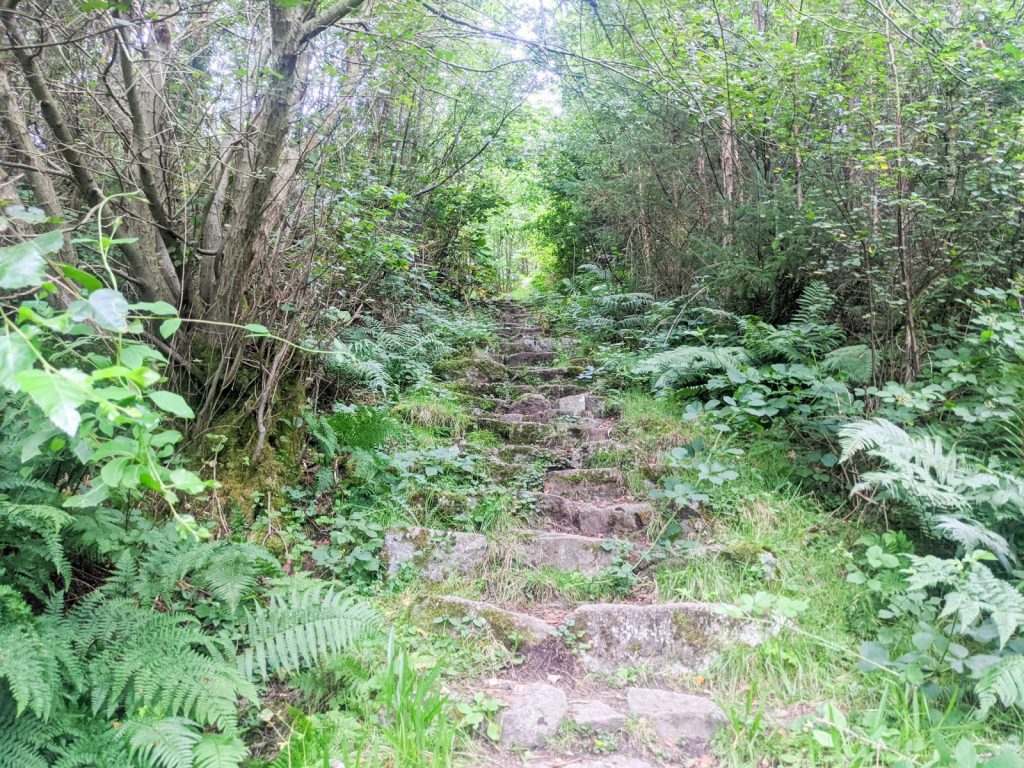 Once I got to the top, the views towards the loch, Solway Coast and beyond were truly magnificent. I then realised it was possible to climb Waterloo monument itself.
The spiral staircase to the top is similar to those you find in castle turrets and once you're inside, it's pitch black. I know from previous experience that I often get a bit shaky when I climb steps like these – I start to panic that I won't be able to get back down and my legs get very shaky! I started to ascend the monument, using my phone as a torch, got around half way and started panicking. I turned and came down.
When I got to the bottom, I realised that getting down wasn't that bad, so decided to go back up again. Once again, I got half way up and started worrying. I could feel the cold air blowing through the turret windows and I worried what it would actually be like at the top.
Once again, I came back down – this was ridiculous! I knew I'd regret it if I didn't do it! I text Neil to get his view and he said to go for it. So I did!
Getting to the top didn't disappoint, but there was no barrier – the steps opened up to the top and wall around was about 2ft high! I sat down on the top step, took a few selfies and felt my legs like jelly. I took a few deep breaths and headed back down taking the steps on my bum until I was about half way down and then walking the rest. So exhilarating! But my legs were shaking like jelly the whole walk back!
Once I went back down Waterloo hill, I decided to explore the rest of the village.
I wandered around the outside of New Abbey Corn mill (again shut unfortunately due to Coronavirus) before making my way to Sweetheart Abbey – also shut.
Fortunately, you can wander around the outside of the Abbey and enter the adjacent cemetery to snap a few great pics. Due to structural damage the abbey currently has scaffolding on it, but it was amazing to see it in spite of this.
The journey home
Out short break to Scotland had come to an end. We stopped off in the Lake District on the way home. We wandered around Glenridding and took the car ferry across Lake Windermere to Coniston before arriving back at our home in time for tea and bed for the boys.
An incredible week exploring the Dumfries and Galloway region of Scotland. There's still so much we have yet to explore and we promise we will be back again to see more. If you are planning a staycation this year or next due to the pandemic, I cannot recommend this part of the world highly enough!