Female Solo Travel to Pompeii Archeological Park
In 2010, before I met my husband and way before my boys were even thought of, I spent a week in Italy travelling alone. As part of the trip, I spent a few days in Naples and made the trek out to Pompeii to visit the fascinating ruins. What's it like visiting Pompeii as a solo female traveller? There are definitely things to look out for!
Getting to Pompeii from Naples
Pompeii is around 15km outside of Naples and is easily reached by using the Circumvesuviana train line.
I caught the train from Napoli Piazza Garibaldi (although you can also catch it from Porta Norlana) and found the 35 minute journey was fine. Many had warned me the trains are often overcrowded and very hot, however as I was visiting in March, this wasn't the case at all.
The ticket costs around €2,60 and takes you to Pompei Scavi station which is only a short walk away from the entrance to the Pompeii archeological site.
Once you arrive at Pompei Scavi, then right out of the exit and walk down the main road until you see the entrance to Pompeii on your left.
How long should you plan to spend in Pompeii?
You can easily spend a full day in Pompeii as there is so much to see, but as a solo traveller, a few hours was enough for me.
Make sure you pick up a map on your arrival so you check off all the things you want to see. The site is really big, so it's easy to miss things.
There are so many incredible ruins to see, but you cannot miss:
The forum

Ampitheatre

The brothel (Lupanar)

Great Palestra

Garden of fugitives

Villa dei Misteri

Temple of Apollo

Stabian baths
Things to look out for as a solo female traveller in Pompeii
If you are travelling to Pompeii from Naples, you'll already be well aware of how intimidating it can feel being in southern Italy as a solo female traveller. Pompeii is much more chill than Naples, but you should still have your wits about you.
Men who work around the site, whether they're guides, archeologists or drink sellers, will call to you, whistle at you like a dog and approach you. I honestly believe you are quite safe and these guys simply want to chat and tell you how beautiful you are. It can however feel very strange at times. There are always plenty of other tourists around, so if you do feel uncomfortable, head towards one of these groups calmly and confidently.
Keep your wits about you at all times with regards to pickpockets. Just like at other tourist hotspots around the world, there is always a risk of having your belongings taken, so keep them close by at all times. They don't like you taking big bulky bags into Pompeii anyway, so a small handbag that you can easily keep hold of will be best.
It's also a good idea not to carry a lot of cash with you. Take only as much as you need and perhaps keep a card (I was take a credit card as an emergency) in your front pocket, separate from your other belongings.
It can get really hot in the archeological site. I visited in March and the temperatures were hitting around 18C. Take sunscreen with you and a bottle of water – which you can fill on your way around. The last thing you need is a fainting episode due to dehydration or sun-stroke!
Places to Stay near Pompeii
I stayed in a hostel when I visited Naples, however there are tons of options for every budget, from hostel to 5* luxury resorts. There are hotels in Pompei itself or you can easily acess the site from Naples or Sorrento. Voyage Privé's website has a full range of last minute getaway deals, budget-friendly options and luxury hotel deals.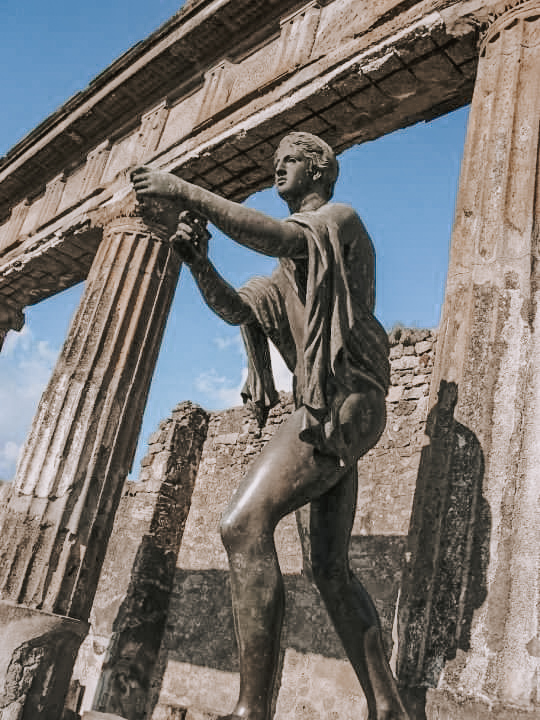 Whether you're travelling alone or in a group, have fun! Pompeii is an incredible site to visit and you will learn so much. I am absolutely glad I visited as a solo female traveller, and it is definitely a place I wish to return to one day, along with the kids!