If you're off on holiday to Sousse or any other coastal resort in Tenerife, then carve out a day, in-between sunbathing and lounging around, to visit El Djem.
Famed for its incredible amphitheatre, El Djem is a must-see. The amphitheatre is well preserved and offers a unique insight into third century Roman life.
As the sole amphitheatre in Africa that is built on flat ground and can boast that it's the third biggest amphitheatre in the world, you cannot miss this spectacular UNESCO World Heritage site if you're in Tunisia.
How to get to El Djem
El Djem is located to the south of Sousse and can be accessed by private taxi, louage (shared taxi) or train depending on your budget.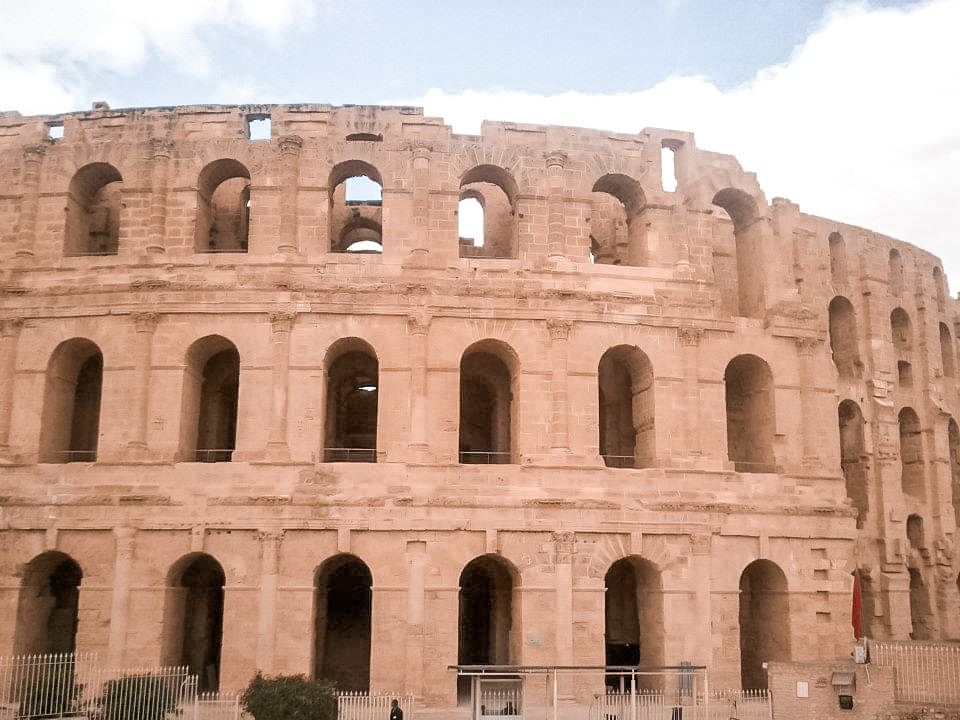 Getting to El Djem by train
El Djem is accessible by train from Sousse and is a cheap way to access the stunning amphitheatre.
Whilst we were staying in Sousse the first time, we purchased a Carte Bleue which gave us unlimited train travel across Tunisia for 7 days.
A Carte Bleue is excellent value for money if you're planning to visit multiple sites and worked out less than £10 each. You can purchase a Carte Bleue for 7, 15 or 21 days and can choose from three classes – Confort, Première (1st) or Deuxième (2nd).
Sousse's train station is located in the centre-ville and is called Sousse-Ville. It is easily reached by taxi which your hotel can arrange for you.
El Djem is on the Tunis – Sfax line, so look for the platform with trains to Sfax. The train station employees speak excellent French and pretty good English if you get stuck.
The train ride takes around 45 minutes and will drop you a few minutes walk away from the Amphitheatre. The train does not stop for long, so make sure you are ready to leave the train as you are approaching the stop.
You will be able to see the amphitheatre as the train approaches the station and once you descend it's only a few minutes walk to get to the entrance.
Getting to El Djem by taxi
Your hotel can arrange a private taxi for you to reach El Djem, but this can be an expensive way to travel. However, you will benefit from a quick and safe journey. It takes around an hour to reach El Djem by car.
Another option is getting to El Djem with a louage. A louage is a shared taxi, a bit like a minibus service. We used this option when returning from El Djem. It's not the most comfortable and I wouldn't recommend it if you're a female travelling alone, but it's a cheap way to travel and a fantastic way to see a little deeper into the Tunisian way of life.
Travelling by louage is a really cheap way to get around Tunisia and you can get a louage from Sousse to El Djem for around 5 Dinar.
The louage station is located near to the souk and is best reached by private taxi. Once you arrive you can purchase a ticket which you pass to the driver of your minibus. One of the downsides of travelling by louage is you have to wait until the minibus is full before it leaves, but it's usually not long until it's crammed full of passengers.
The amphitheatre is around a ten minute walk from the station de louage.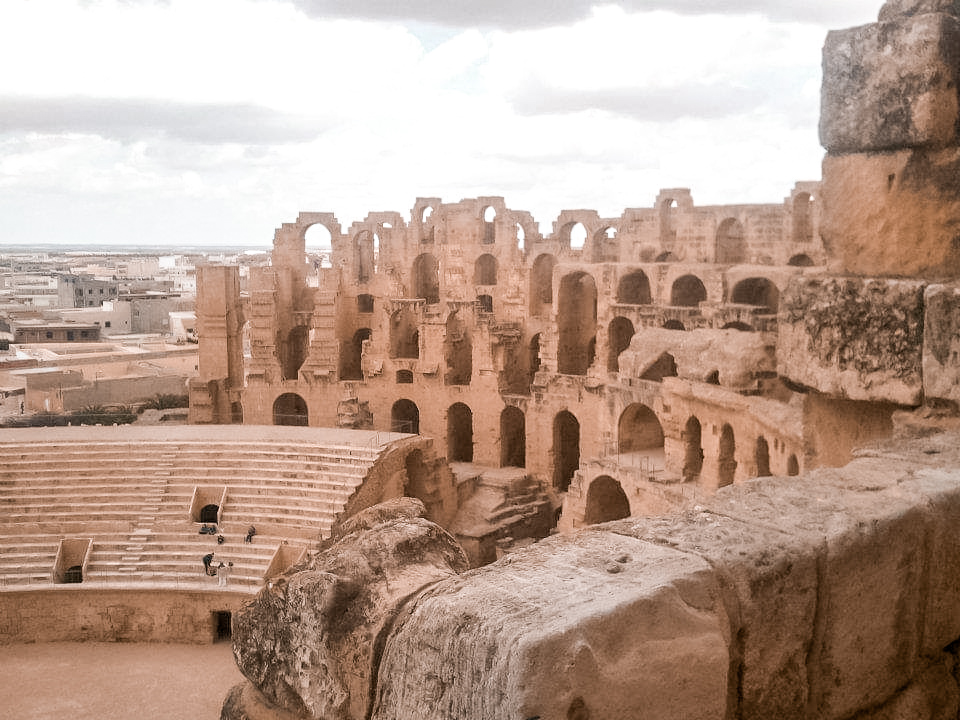 What can you see in El Djem?
El Djem Amphitheatre
The main (and pretty much only) reason to visit El Djem is the tremendous amphitheatre which was built in 238 AD and is believed to have seated 35,000 spectators.
The inside and outside of the amphitheatre are really well preserved, including the underground passages which makes this monument a real treat.
You buy your ticket outside the amphitheatre which costs 10 Dinar including entry into the archeological museum also.
The best way to explore the amphitheatre is to wander around and simply take in the sights. There is much to explore including:
Climbing to the upper level seats to take in the amphitheatre as a whole

Two underground passages where the gladiators and animals would have been housed

Soaking up the atmosphere of this incredible monument thanks to the lack of crowds
El Djem Archeological Museum
The ticket price includes entry to the museum and it's well worth popping along to have a look.
The museum is well signposted from the amphitheatre and is about 1km away.
There are plenty of mosaics to view and an old Roman villa at the back of the museum which was excavated in the 1990s and placed here for your viewing pleasure.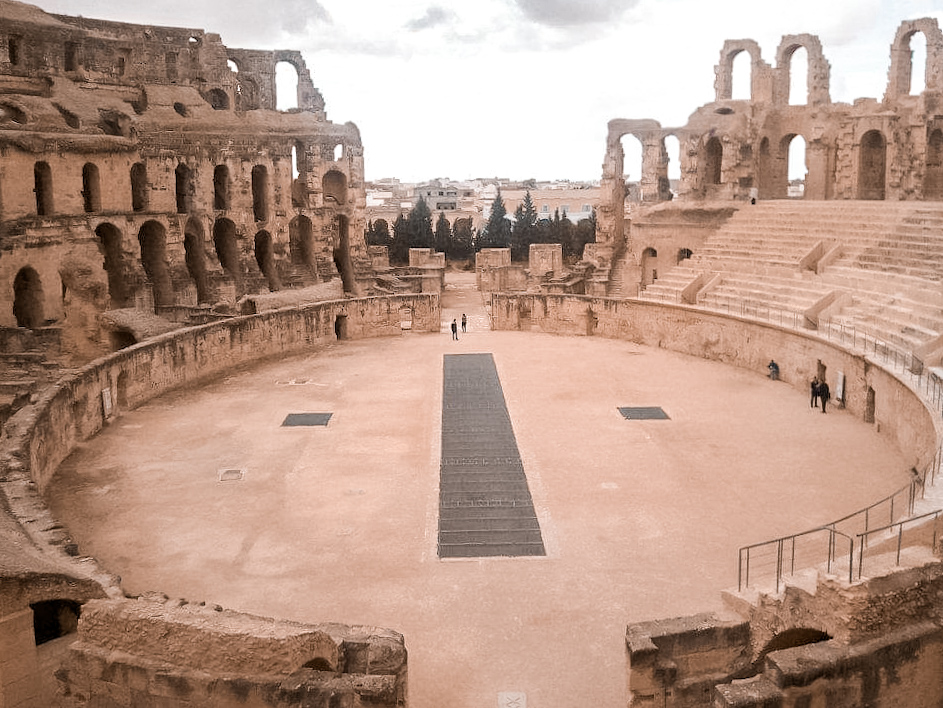 Which is better – El Djem's amphitheatre or Rome's colosseum?
Having visited both El Djem's amphitheatre and Rome's colosseum twice, I know which of the two monuments I prefer.
Rome's colosseum is bigger than El Djem's amphitheatre, however El Djem's feels much more preserved. It's also way easier to access (you can simply show up) and there aren't hoardes of people getting in the way when you want to get some photos and immerse yourself in the history of the place.
Other incredible Roman sites to visit in Tunisia
Carthage, outside of Tunis

Dougga

Bulla Regia