Ainsdale Beach | Days Out
Now that we live in West Lancashire, our new preferred beach to visit is Ainsdale beach. When we lived in Liverpool, we loved going to Crosby beach, but now it's just that little bit too far away, so we now spend the majority of our beach days at Ainsdale. Ainsdale beach is fantastic in the summer and winter months. We love that it doesn't matter if it is high or low tide – the beach is always accessible and there's also the bonus of its beautiful sand dunes which give us hours of fun of running, hiding and chasing!
Visiting Ainsdale beach during Coronavirus pandemic – updated August 2020
During these current strange times of the Coronavirus pandemic, it is possible to visit Ainsdale beach, but there are a few things to bare in mind.
Parking at Formby is not permitted and there are huge signs around the area directing people instead to Ainsdale, which means Ainsdale beach is busier than it usually is. Make sure you plan for this!
Currently there doesn't appear to be a fee to park on Ainsdale beach. We have visited twice since lockdown eased and both times accessing the car park on the beach was free.
Again, thanks to the free access to Ainsdale beach, this means the beach is much busier than usual, so be aware of this.
The last time we visited, it was so busy, that cars were double parking and we were blocked in – not great when the weather is hot and you need to get the kids home – so please me mindful when parking.
On hot days, the area gets so busy that the police start turning people away, so get to Ainsdale beach early on hot days if you want to make sure you can access it.
Despite the busyness of the beach car park, there is still PLENTY of space on the beach itself, so you don't need to worry about social distancing. You can easily social distance, even on the busiest days of the year.
Getting there
The beach itself is next to Pontins Holiday Resort and accessed via Shore road just off the roundabout. Be warned, on hot sunny days it gets very busy and cars can be queuing right back off the beach and onto the roundabout.
Parking costs £5 for cars and £10 for minibuses and you can park pretty much anywhere on the beach, giving you fantastic access. Most people set up camp right next to their vehicle so they don't have to keep going back and forth with all of their belongings.
During the winter months, you can't park on the beach, but there is a car park nearby with free parking, plus you can park on the road near to Pontins (avoid the double yellow lined areas though!) Be sure to invest in a huge holdall bag to carry all your stuff like the range advised by Product of Travel.
Are cars allowed on Ainsdale beach?
Yes, cars are allowed on Ainsdale beach. The first part of the beach is designated as a car park (during spring and summer months only) and you can park right next to either the dunes or the sandy beach. During the summer months, if you get there early enough, you can park up, set up camp and be right next to the beach so the kids can run off and play, with no need to worry about them traipsing through the car park.
What is there to do at Ainsdale beach?
There are tons of things to do at Ainsdale beach. I never mind paying the fee to park there as I know we will always stay for the full day (depending on the weather of course!) What is there to do at Ainsdale beach:
1. Swimming in the sea
When the tide is out, it is often a long walk to get to the sea, but it is well worth it! Dexter and I spent a coupe of days of 2019's summer heatwave at Ainsdale beach and taking a dip in the sea was the most perfect way to cool down! The sea is warm and there are no sharp rocks, making it safe for little feet! The tide moves quickly though – so try not to bring anything down to the sea with you – we saw lots of towels and bags get washed away by the incoming tide and I got bored of running after our bag every five minutes!
2. Shellcombing
We love hunting for different types of shells and rocks – a great activity for toddlers and pre-schoolers! Ainsdale beach doesn't disappoint – there's always plenty to be found. We also love that there's usually lots of small pools as well that have been left by the outgoing tide. These are particularly great for finding shells and small fish!
3. Exploring the sand dunes
The sand dunes are a fab place to play hide and seek! You certainly get a lot of exercise as you run up and down them, battling against the sand. At the top of the sand dunes, the views of the beach and sea beyond are incredible!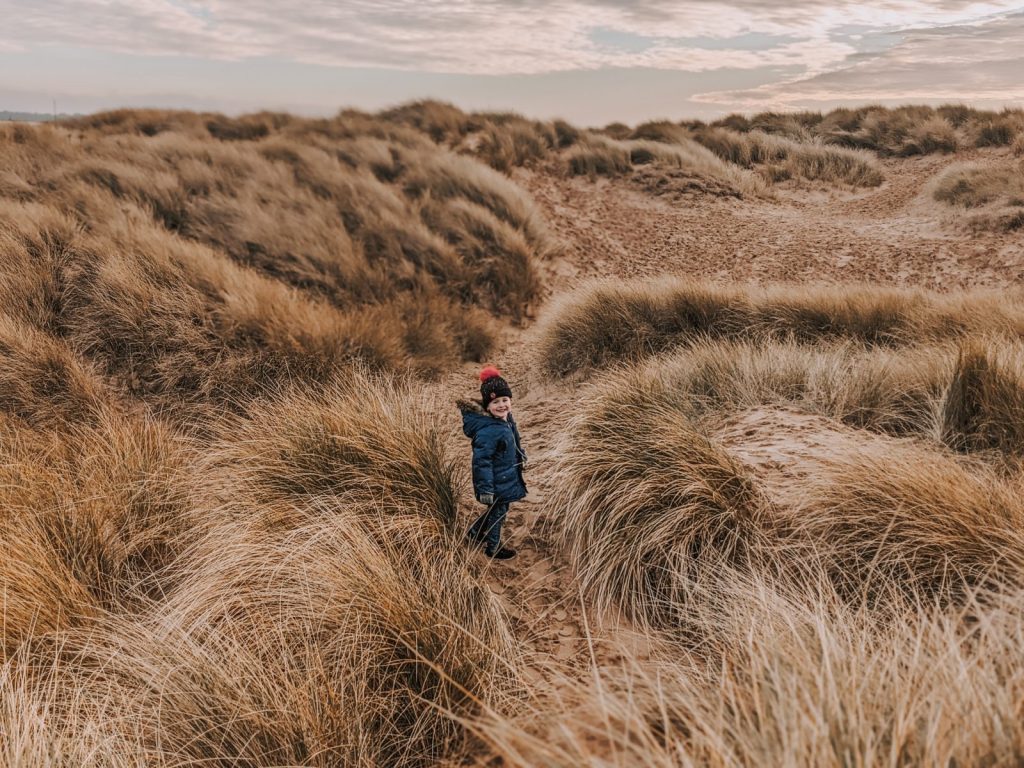 4. Playing frisbee
There is so much space on Ainsdale beach, that even on the busiest days of the year, there's plenty of room to run around and play games without disturbing or knocking into anybody. We love taking our frisbee down to the beach – a great game to play with the pre-schooler and a fantastic way to get (even more) exercise in!
5. Flying kites
Flying kites is a popular activity down at Ainsdale beach during the spring and summer months. We often see beautiful kites flying!
6. Sunbathing
Of course, the Great British weather cannot always be relied upon, but when it does sizzle in the UK, sunbathing is a great thing to do at Ainsdale beach. Beware though! There's no cover from the sun, so be sure to wear plenty of sun cream!
7. Picnicking
Ainsdale beach is the perfect place to take a picnic. We always bring a huge blanket and lots of snacks from Aldi to munch on. During the summer months flies and spiders can be a bit of a pest, so keep food covered up when you're not eating it.
Can you swim at Ainsdale beach?
You can certainly swim at Ainsdale beach, however the lifeguards on duty like you to stay in the designated zone – marked by red flags. We would not recommend swimming here in the winter months, but during the summer, as long as you take care, it's fine.
Are dogs allowed on Ainsdale beach?
Yes, however there is a dog free zone for 200m either side of the beach entrance at Shore Road.
What's it like in winter?
As much as I love visiting Ainsdale beach in the summer – it is just as good in the winter too! The sea breeze is great for clearing the cobwebs and getting the family out and the sun sets are just incredible. Let the pictures below show you for themselves.