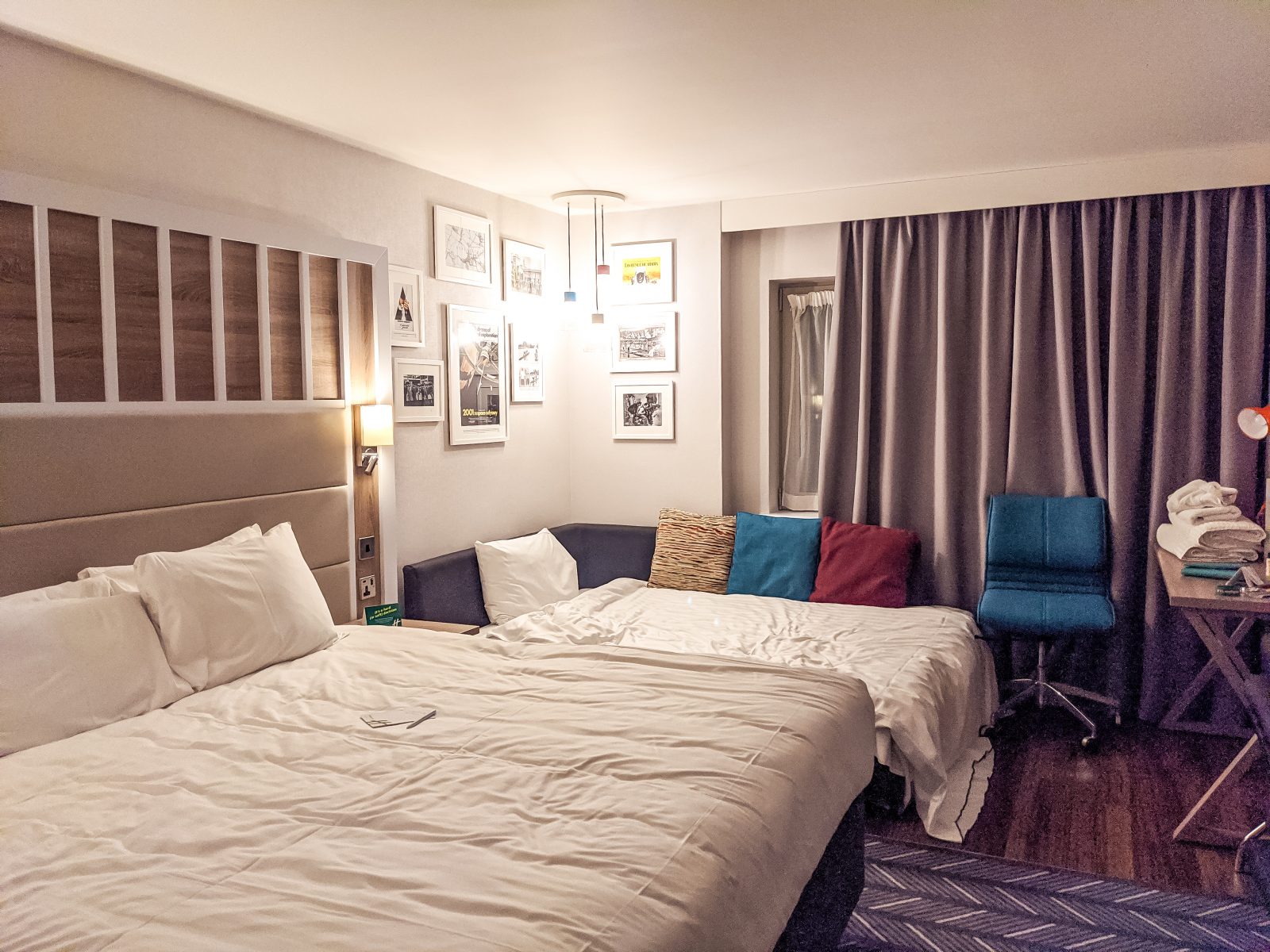 Holiday Inn, Shepperton | Hotel Review
Just after Christmas, we spent a couple of night down south so we could visit my sister-in-law who lives in the gorgeous county of Surrey. We've been huge fans of the Holiday Inn for a number of years thanks to their cheap prices and comfortable rooms, so when we found the Holiday Inn Shepperton, which is close to my sister-in-law's house, but also a great base in order to get to London, we booked it immediately – and, as usual, we were not disappointed!
The location
The Holiday Inn Shepperton is located on Felix Lane, a stone's throw from the river Thames and a short walk away from Walton-on-Thames. if you're looking to visit friends or family in walton, Weybridge or even London itself, this hotel is very conveniently located. There is a train station in Walton which gets you on a direct train into London Waterloo and right onto the Southbank within 20 minutes!
Getting to the Holiday Inn Shepperton
We made the drive from the North West down to the Holiday Inn Shepperton and the sat nav took us right to the door. There is a large car park available and when we stayed parking was free of charge – you simply gave your car registration number to reception and they sorted everything out for you. The nearest train station is Shepperton which is around a twenty minute walk away from the hotel. Walton-on-Thames station is around an hour's walk away.
Related Post: How to Save Money on Your Next Hotel Stay
The room
We booked a family room for a really cheap price (less than £100 for four of us for two nights) and we were not disappointed. There was a large kingsize bed for the two adults, a sofabed (already made up) for the toddler and a travel cot provided for the baby. If the baby had been older, it still would have been very comfortable as the sofa bed was big enough for two children under 10.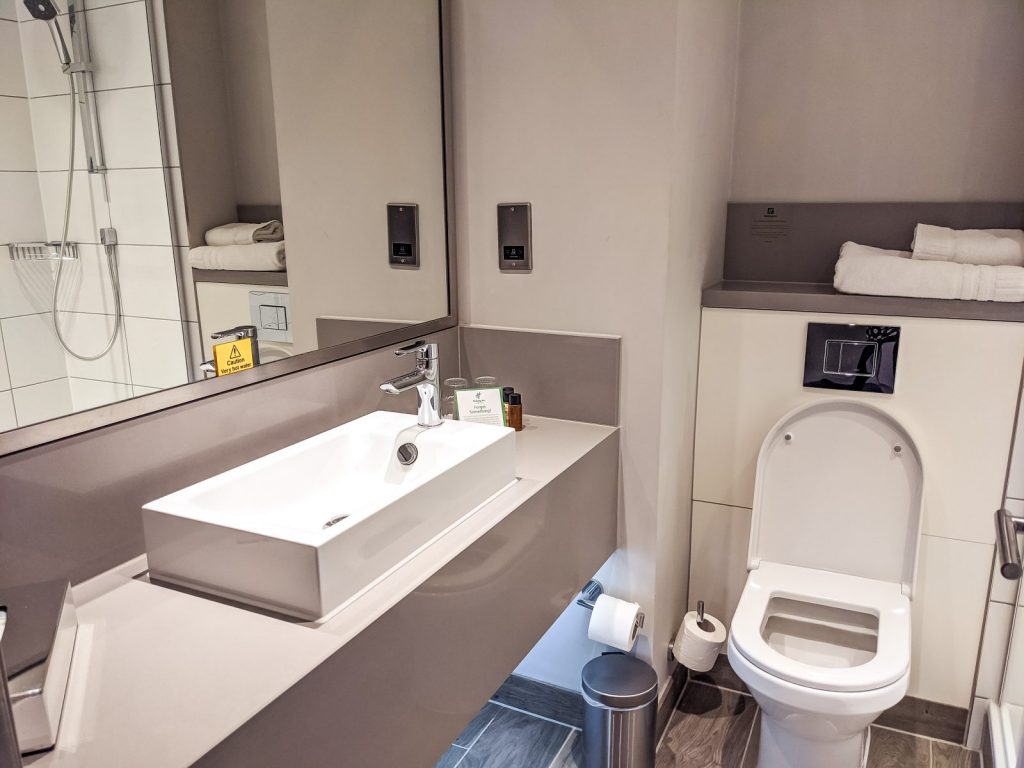 Quite often we co-sleep with our baby and the kingsized bed was big enough for us to comfortably do this, with lovely soft pillows and an enormous duvet.
The room came equipped with a large wardrobe, a flat screen TV, en-suite bathroom with complimentary toiletries and a desk area.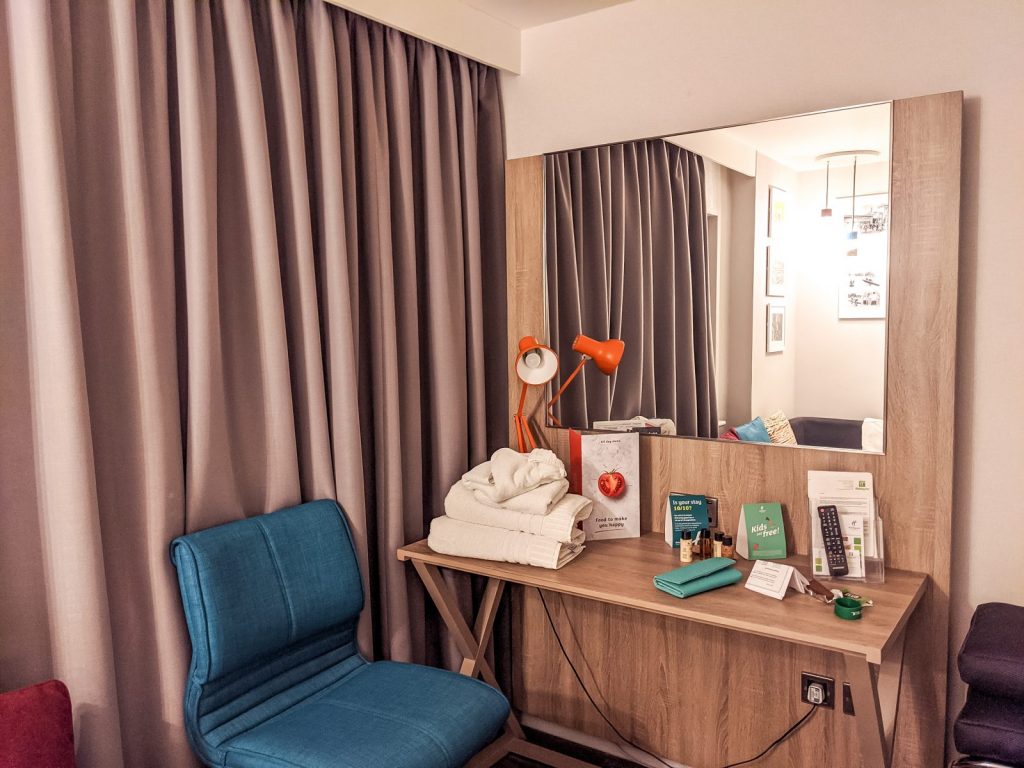 The hotel itself
We were welcomed to the hotel by a lovely young lady on reception who couldn't do enough to help us. We visited between Christmas and New Year which meant the hotel was rather quiet, but the staff were really happy to help. They offered the children wristbands so they could get a free ice cream at the bar/restaurant area and gave them a Club biscuit to welcome them to the hotel.
We had booked breakfast (yes, this was included in the really cheap hotel price!) which was a help-yourself style buffet. There was anything and everything on offer and if there was something else you fancied like pancakes or a certain style of egg, the waitresses are happy to take your order and make if for you in the kitchen. We enjoyed full english breakfast, croissants, pain-au-chocolat, fruit and yoghurt and loads more. The kids were in their element, ordering pancakes, eating fruit and devouring chocolate breakfast treats. We couldn't have been happier with breakfast and it was always a really great start to our day.
On site, there is a fitness and wellbeing centre which hosts a gym, pool and steam room facilities. Unfortunately, because we had the two boys with us, we didn't get the opportunity to take advantage of these facilities but they were really popular with the locals who we saw popping in and out frequently. Next time!
Overall thoughts on Holiday Inn Shepperton
We had a great time at the Holiday Inn and will definitely be back. We loved:
How clean the whole hotel was, from the bathroom to the restaurant.
How friendly the staff were, particularly on reception
Breakfast – so much choice and really great value for money
The room – plenty of space and great facilities
The location – fantastic for getting around Surrey, close to Kingston for shopping and easy to dart into London on the train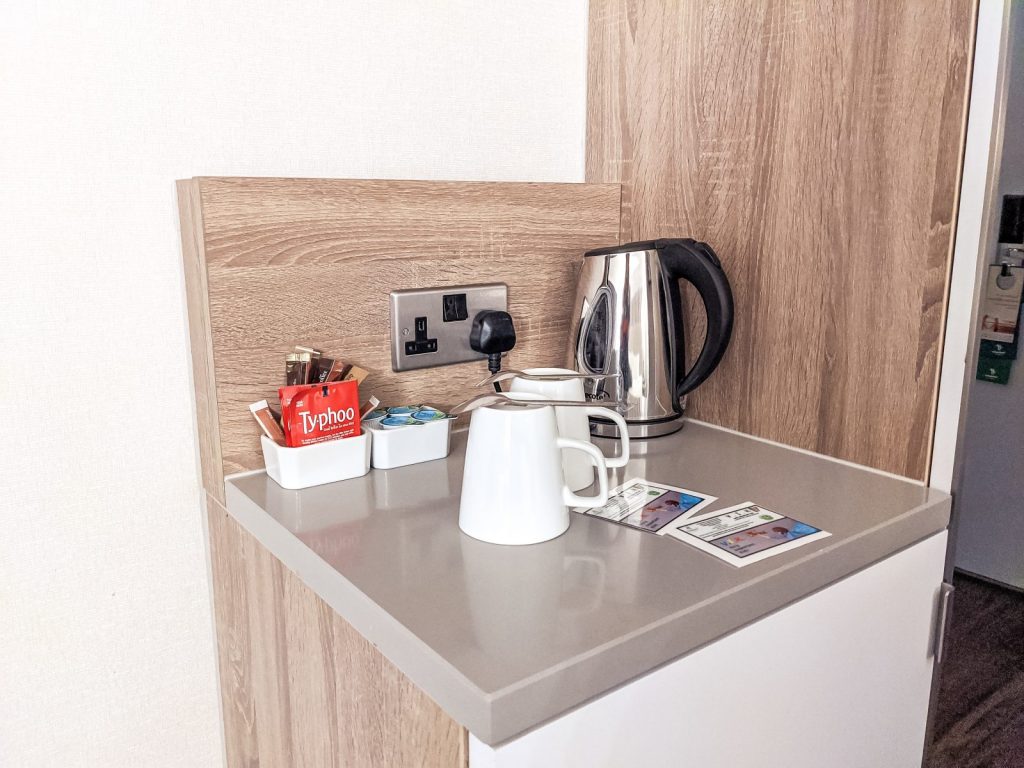 We hope you enjoyed this Holiday Inn Shepperton review – have you stayed there? What did you think?