Whenever we travel far away from home, we much prefer using A roads to motorways and stopping off at fun or historic sites for a break, instead of the usual boring motorway service stations. When we stayed at Wemyss Bay Holiday Park, back in April, we stopped off at Dundonald Castle on the way home after road trippin' along the Ayrshire coast. Dundonald Castle is rich in history and a stunning location to spend an hour or so exploring, with or without kids.
Getting to Dundonald Castle
Located in the small village of Dundonald, the 14th century castle stands above the village, looking down on its inhabitants. Dundonald is located just off the A78 (the busy road which takes you up towards north Ayrshire along the coast, through Largs and eventually Wemyss Bay) and in between the towns of Troon to the west and Kilmarnock to the east.
There is limited parking, just outside the visitor centre and once you have purchased your tickets, you access the castle via a steep path up the hill. It is accessible for prams, but those who have difficulty walking may struggle.
Related Post: 15 Tips for Planning Your Next Family Day Out
What is there to explore at Dundonald Castle?
The visitor centre, which is run by Friends of Dundonald Castle, is a hub of activity and learning with voluntary staff manning it and keen to share their knowledge of the site. As you first enter, there are drinks, cakes and ice creams for sale as well as gift items such as plastic swords and other novelty items. To the left is ample seating and toilets and to your right is a small museum area with plenty of facts about Dundonald Castle and clothing for kids to dress up in before you make your ascent to the ruins. Dex wasn't too keen on dressing up (unlike me, who loves getting into the swing of things!) but he did take with him a cardboard sword for imaginary battles.
It was a gorgeous sunny day when we visited and we were lucky as despite it being the Easter Holidays in England, the kids were still in school in Scotland, so the castle was pretty much deserted. Compared to the heat of outdoors, the cool, dank castle was a welcome relief and I was so excited to find that there was plenty to explore indoors.
Dexter and I climbed to the first level together which overlooks the ground floor. This level is accessed by a stone staircase with no hand rail, so may be difficult for some toddlers. We enjoyed looking down on Daddy and Felix and going a little further to look out of the open window at the courtyard just outside the castle entrance.
The next level is accessed via a metal spiral staircase which I climbed alone. From the top the views are incredible and I enjoyed exploring this level which housed the Great Upper Hall for the kings who once resided here.
Related Post: Newark Castle, Nottinghamshire
After fully exploring the castle, we went back to the Visitor Centre for a couple of drinks and an ice cream and enjoyed sitting out and enjoying the sunshine.
I came away from Dundonald Castle absolutely thrilled as it had been years since I'd visited a castle which had such great access to the ruins. I loved how knowledgable and excited the volunteers were to tell us everything they knew and I adored sharing my love of castles with my little boy, who seemed to love the experience as much as I did. (Although he got a little scared when I was on the top level and he could no longer see me!)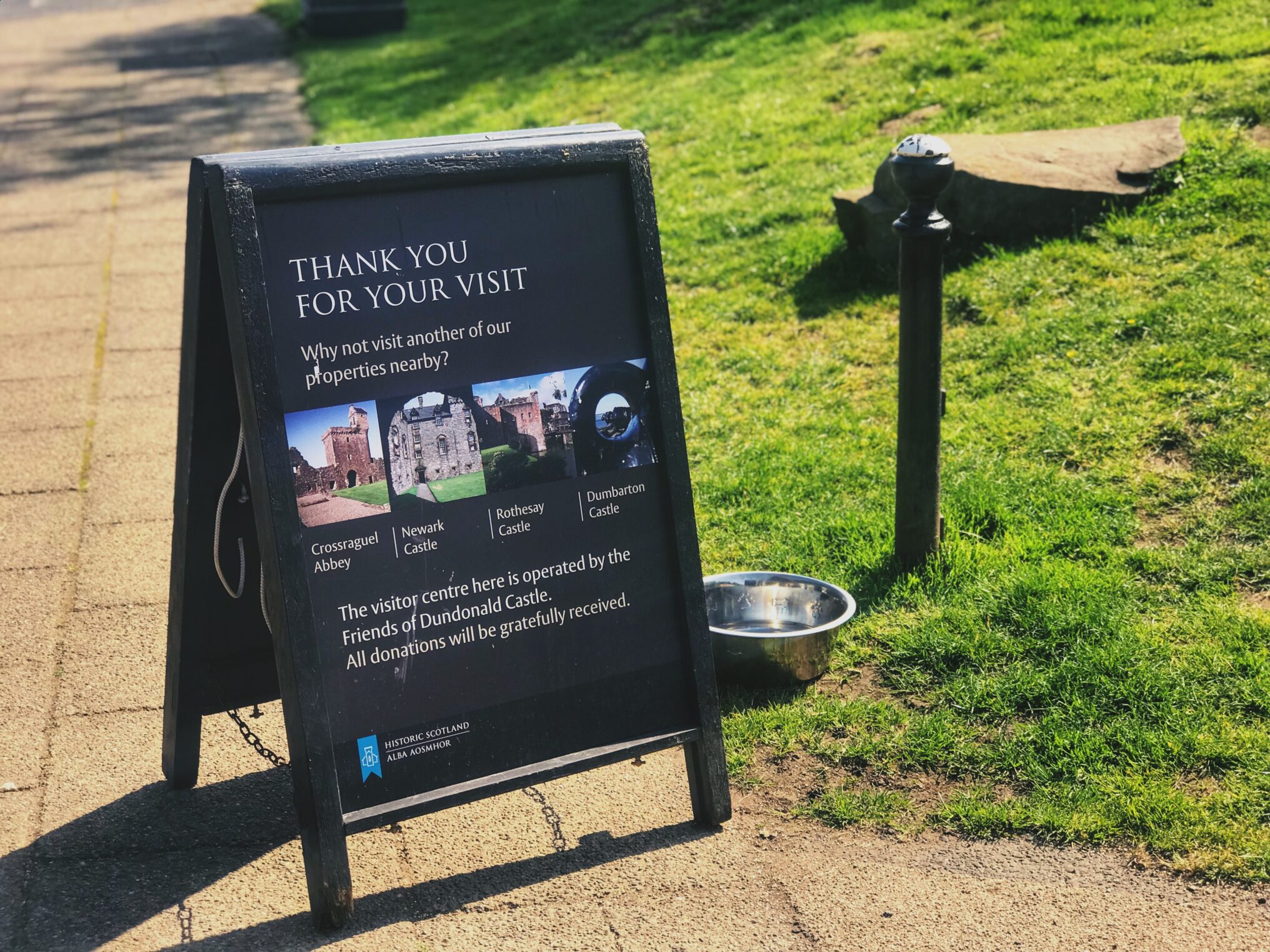 Admission*
Member/Explorer Pass holder: FREE
Adult: £6.00
Child aged 5–15: £4.00
Child under 5: free
Concession: £5.00
1 Apr to 31 Oct: 9.30am to 5.30pm
1 Nov to 31 Mar: 10am to 4pm
*prices and times correct as of July 2019